On June 13-14, 2022 more than 120 participants from various countries met at international conference which was held in Tirana, Albania, within the framework of a Project "Portrait of a Judge – a multi-dimensional model of competencies to be measured during the procedures of selection, evaluation and promotion of judges", funded by Iceland, Liechtenstein and Norway through the European Economic Area (EEA) and Norway Grants Fund for Regional Cooperation.
The international conference "Model of selection, evaluation and promotion of judges: What competences and skills matter? Best practices and trends" was dedicated to the presentation of the findings of the scholars and practitioners, and provided the space to share best practices and experiences, spur discussions and listen to the insights of the attendees. 
The topic of selection, promotion and evaluation of judges is the key to an independent judiciary and true guarantee of the principle of the Rule of Law. Therefore, international cooperation of judges, scholars and practitioners in this area, striving to find the best possible practices is the best sustainable way forward

said Mr. Gian Luca Bombarda Director of Norway Grants Fund for Regional Cooperation when opening the conference
This indeed captures the essence and the ultimate goal of the Project – to provide a model of competences, standards for procedures in selecting, evaluating and promoting judges that ensures unbiased approach, non-discrimination and inclusion and that any European country could tailor-suit to its own needs. 
The first day of the Conference was dedicated to the selection, appointment and evaluation procedures of judges,while the topicsof promotion of judges to higher courts as well as to leadership positions were discussed in the second. The conference was held in hybrid format, allowing participants to meet each other after a while and share the ideas on person and also available to an even larger international audience to be followed online. This exchange of ideas was very successful with more than 60 people participating live at the venue in Tirana, including the President of the Albanian Judicial Council Mrs Naureda Llagami and the President Albanian Supreme Court Sokol Sadushi, Head of the NGO Tirana Legal Aid Society Raimonda Bozo together with the international experts, such as the President of the Lithuanian Judicial Council Sigita Rudenaitei, Judge of the General Court of the European Union Rimvydas Norkus and other honorable members of the judiciary, academia and non-governmental organizations.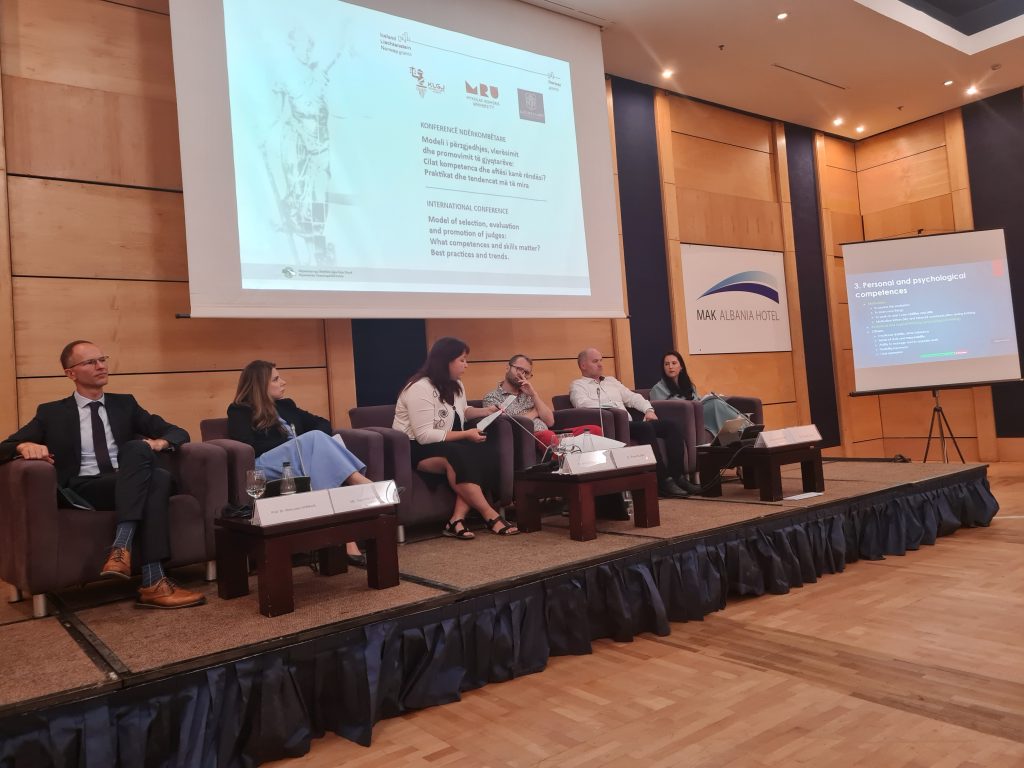 Events like these give a new spur and provide new energy to the Project. I believe that besides the presentation of the ongoing research results, such live events above all connect people. And this is the highest added value. We got an amazing opportunity to have intense and targeted live exchange of ideas among highly skilled professionals and also to take the discussions outside the conference room.

Prof. Dr. Salvija Mulevičienė